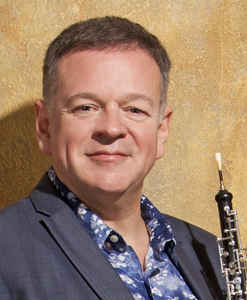 Nicholas Daniel
Oboe

Nicholas Daniel
has been acknowledged as one of the world's great oboe players, and is one of Britain 's best known musicians. In a distinguished career that began more than four decades ago he has become an important ambassador in many different musical fields, and has significantly enlarged the repertoire for his instrument with the commissioning of hundreds of new works.
Nicholas dedicates his life to music in many varied ways. He records and broadcasts widely, including regular recordings on the Harmonia Mundi Label, and he boasts a huge following internationally on social media. He is proud to support and patronise many important initiatives, charities and trusts, and has directed several music festivals and concert series, most notably in Germany and Dartington, and has been Music Director of the Leicester International Music Festival and lunchtime series for many years. He is highly sought after as a teacher, being Professor at the Trossingen music school in Germany .
Following his BBC Proms conducting debut in 2004, he works with many fine ensembles in wide-ranging repertoire ranging from Baroque to contemporary, and from small groups to opera. He is Music Director of Triorca, an orchestral project which brings together talented young musicians from Serbia , Germany and the UK . In recognition of his achievements he was honoured in 2012 by Her Majesty Queen Elizabeth II with the prestigious Queen's Medal for Music, and cited as having made "an outstanding contribution to the musical life of the nation". In October 2020 he was awarded an OBE.
Over the last 18 months I have looked at what we do, and realised it's more and more miraculous in a way.
He says that when he listens to a musical performance, his first question is, "Is the person communicating. And are they communicating through themselves the feeling of the composer? People have different ways of approaching being a musician." When he is the performer, "I try to use all of my experience in the various styles of music so that my playing will transmit what the composer is saying to me. To me, that means that I have to subjugate myself to an extent, but at the same time I have to allow, as it were, the harp strings of my self to resonate with the composer's intentions, and then communicate that through my playing."
Like most of us, the life imposed by the pandemic has changed him. "Over the last 18 months I have looked at what we do, and realised it's more and more miraculous in a way. It's perhaps the most miraculous thing that human beings do – they make instruments, and then they communicate emotions to each other through them."