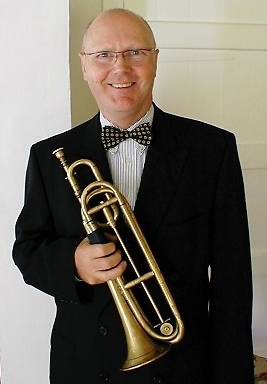 Crispian Steele-Perkins
Trumpet


Crispian Steele-Perkins is a trumpet soloist who is world-renowned for the quality of his performances and wide-ranging musical experience. On graduating from the Guildhall School of Music, Crispian spent his early career playing with the English National Opera and Royal Philharmonic Orchestra. He then spent 15 years working in Recording, TV and film studios, developing a body of work which is universally recognisable today, from Handel to James Bond themes and pop classics.
His interest in collecting and restoring antique trumpets led him to begin performing on them - appropriately you may have heard Crispian's playing introducing the BBC's "The Antiques Roadshow". His unique performances and recordings on genuine historic instruments led Continuo Magazine to describe him as "the world's leading player of the Baroque trumpet".
Playing alongside some of the world's greatest singers, Crispian's purity of tone and artistic subtlety have received critical acclaim for more than three decades. Recordings of Handel's "Let the Bright Seraphim" with Dame Kiri te Kanawa and "Eternal Source of Light Divine" with James Bowman are familiar to many. More recently his performances with Emma Kirkby, Lynn Dawson, Carolyn Sampson, Bryn Terfel and Lesley Garrett have strengthened his reputation as a modern icon. His work in the studios has included more than 80 film and TV scores, appearing alongside Sir Cliff Richard, Sir Bob Geldof, Sir Harry Secombe, Kate Bush, Elaine Page, Chris Rea and Lulu.
Celebrated for his skill as a communicator, his recitals and amusing demonstrations showcase the development of brass instruments over the past 500 years. These presentations have entertained and enlightened audiences throughout Europe, the US and Australia. His infectious enthusiasm to share the sounds, mysteries and anecdotes of previous centuries is an inspiration to all age groups.